Biography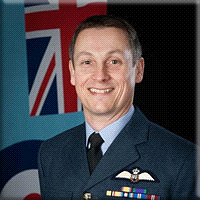 CFSA President

David joined the RAF in 1981 as a Halton Apprentice, and was commissioned into the Pilot branch in 1985. He flew the Tornado GR1 in RAF Germany, and completed instructional tours as a Hawk QFI and QWI. He is a former Hawk solo display pilot, and commanded 19(F) Sqn at Valley. He undertook several operational tours, both in the cockpit and in ground appointments within Air Operation Centres. In 2011, he commanded all UK military personnel at Kandahar Air Base, Afghanistan.

He held the appointment of Commandant of the Central Flying School from 2012-2014, and continued his close affiliation with training as the Director of Flying Training from 2015-2018.

He is an alumna of the Defence Services Staff College in India.

David retired from the Service in early 2019, joining CAE as their UK Strategy & Business Development Director, Defence & Security in Jun 2019.