Home
Beginning
Inter War Years
WW II
Little Rissington
Up to Date
CFS Helicopters
CFS Mascot
Flying
Instruction
Formation
Aerobatics
CFS Formations
CFS 1985
Click red text
and pictures!
CFS Mascots
Patrick "Patrick" the pelican was Central Flying School's first official and live mascot. Purchased by several CFS staff officers and given into the safe keeping of Mr Len Hill of Bourton-on-the Water's Birdland, Patrick was presented to CFS at the graduation dinner of 210 course which was held at the Officers' Mess RAF Little Rissington, Gloucestershire on 2nd February 1962.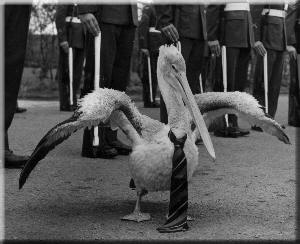 Patrick was named after the Commandant of the day, Air Commodore Pat Connolly , and brought on to the strength of CFS as Pelican 1st Class Branch GD/Pel. Patrick caused considerable interest by the press and was kept busy for several weeks posing for press cameras; the BBC even made a short film of him. The Commandant always escorted Patrick on these occasions. Despite being photogenic Patrick did not like being too much in the public eye and consequently it required considerable time and patience to get a good shot of him. However it did not take too long for Patrick to get into the social circle and on 10 May 62 he was presented with a CFS bow tie which he wore with pride at the Central Flying School Association Reunions and other formal functions. Unfortunately the life of a social jet setter was too much for him and Patrick left for the great Birdland in the sky in 1969.
Frederick On 7 January 1971, the newly graduated instructors of 254 course revealed their well-kept secret, Patrick's replacement. At the graduation dinner a pink breasted pelican, named Fredrick sporting a CFS bow tie waddled up to meet his new boss, Air Commodore Freddy Hazlewood . Flight Lieutenant Sierwald, a graduate of 254 course said "We wanted to present a living memory of course 254 and not something which, like a piece of silver could be put in a drawer and forgotten. Fred seemed the ideal answer since a pelican forms part of the school's crest". Frederick, a South African Pink Breasted Pelican, was born near Lake Barigo, Kenya in 1968. Educated at the Birdland Institute of Zoology, Bourton-on-the-Water, he was recruited into the Royal Air Force by members of No 254 Course in January 1971. He commenced his service in the General Duties Branch in the rank of Senior Under Pelican on 11 January 1971 at Royal Air Force Little Rissington. After a 4-month probationary period, which included attendance at the Freedom of Cheltenham Parade, he was promoted to Pilot Officer on 1 May 1971. On 12 July 1971 Pilot Officer Frederick was presented to HRH The Prince of Wales at the 59th Annual Reunion Dinner of the Central Flying School Association. Frederick completed his first tour at Central Flying School on 6 May 1972, however, in view of his exemplary conduct and performance in duties he was promoted to Flying Officer and re posted to the Central Flying School.
He continued to give good service, establishing healthy relations with the local community, attending parades, providing publicity for the Royal Air Force and so on until 1 May 1974 he was promoted to Flight Lieutenant. Much discussion was held in 1986 as to whether he should receive the further honour of being promoted to Sqn Ldr Spec Aircrew, but it was decided that Frederick had not demonstrated sufficient qualities to merit either promotion or transfer to Spec Aircrew List and it was therefore recommended that he remained in his current rank. Frederick enjoyed a long and active service as the CFS mascot and died in December 1986 of "natural causes". A self-confessed career officer Frederick was once heard to say that his ambition was to become Commandant of the Central Flying School.
Cedric Soon after Frederick fell off his perch, his replacement, Acting Pilot Officer Cedric made his first public appearance on June 26th 1987 for the visit of Her Majesty Queen Elizabeth the Queen Mother on the 75th Anniversary of CFS. Cedric was lively to say the least and on first meeting Her Majesty had to be restrained by his handler for the day, Flight Lieutenant Ian Draper, from giving a 'friendly' peck. Since 1976, when CFS moved from Little Rissington, the Mascot has travelled to the various functions in Lincolnshire and Yorkshire by air, courtesy of the Jetstream, flown by Exam Wing of course. As can be seen from the photos above, the Mascot was presented to the CFSA members during the annual dinner wearing the appropriate tie. On his first such occasion Cedric got rather excited and lunged at who ever looked at him and also left a lasting impression on the carpet! Not all traditions can go on for ever.
DUNCAN LE GAYT Duncan lives a quieter life than his predecessors at Birdland Park and Gardens and he was adopted as the present CFS mascot in May 2001.