Home
2019 Reunion
2018 Reunion
2017 Reunion
2016 Reunion
2012 Reunion
2011 Reunion
2010 Reunion
2009 Reunion
2008 Reunion
2007 Reunion
2005 Reunion
2004 Reunion
2003 Reunion
2002 Reunion
CFSA Reunion 2001




























The 2001 Reunion took place on Thursday 12th July and Air Chief Marshal Sir Peter Squire, Chief of the Air Staff, (himself a former QFI) was our Guest of Honour.

The Reunion followed the normal format, with the AGM and the flying display in the afternoon. The Association were entertained with full displays by the Harrier, Hawk, Tucano, Firefly, Tornado F3 and of course the Red Arrows. The weather was ideal with a strong breeze from the west. In a break from tradition, in the cause of integrating the old and current members of CFS, we joined up with the graduating officers and staff of CFS to celebrate both the Reunion and the completion of No 390 Fixed Wing QFI Course.

Also graduating were a number Rear Crew instructors who had recently completed their training with the Navigator and Airman Aircrew School.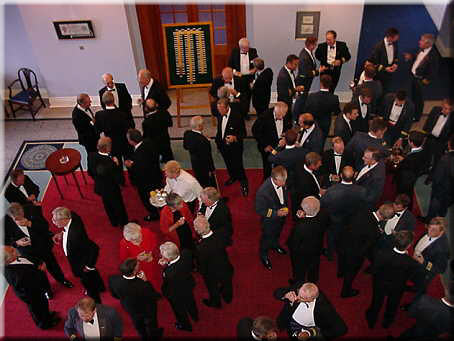 The evening started with photographs on the steps of College Hall which was followed by pre-dinner drinks in the impressive Rotunda.

Many members took this opportunity to view the fine paintings and CFS memorabilia which are now housed in the College public rooms. Some even found their own photographs from their training days among the hundreds around the walls of the central corridors.


At the appointed time we were all transported to York House Officers Mess for the highlight of the Reunion, dinner among friends. A total of 140 diners enjoyed a superb meal during which we were entertained to a selection of music old and new, by an ensemble from the Band of the RAF College.
After the formal toasts the guest of honour presented the trophies to the top graduates of No 390 QFI course, including the huge CFS trophy. The CFS trophy is only presented when the Commandant believes that a sufficiently high standard has been achieved on a particular course.

The formal part of the evening concluded with a number of entertaining speeches from the Guest of Honour, the Patron, the Commandant, Squadron Leader Gibson (who told amusing anicdotes about all of the graduates) and finally by the winner of the Top Hat.
As you know the Top Hat is awarded to the student who achieves the lowest marks in groundschool, and having to entertain the diners is his penance.

The remainder of the evening was spent chatting with friends old and new in the bar. The new format appeared to meet with general approval and will be considered again in the future.