Home
2012 Reunion
2011 Reunion
2010 Reunion
2009 Reunion
2008 Reunion
2007 Reunion
2006 Reunion
2004 Reunion
2003 Reunion
2002 Reunion
2001 Reunion
CFSA Reunion 2005
The highlight of the day was the dinner in York House where the members joined the graduation dinner of No 407 CFS Course. A very popular element of the evening is when the individual Squadron Commanders are invited to talk about their graduates, more character assasination than praise is dispensed with the usual banter from the staff. Following the award of the trophies by the guest of honour, the diners were addressed by the Commandant and AOC Training Units, Air Vice Marshal Ponsonby. All then retired to the bar to chat until the early hours.
After the AGM the Association were joined by CFS staff and students based at Cranwell for the regular flying display.
| | |
| --- | --- |
| As well as the Reds and the PTC Hawk, Tucano and Tutor sequences, the members also enjoyed displays from the Typhoon, Harrier and Spitfire. The Spitfire, based at Duxford, was flown by Flt Lt Charlie Brown of the CFS Tutor Sqn. | |
| | |
| --- | --- |
| | The weather was warm, the company was good and the view was fantastic! |
| | |
| --- | --- |
| The new President, Air Commodore Simon Bostock chats with AVM Osita Obierika who is the Defence Advisor at the Embassy of Nigeria in Paris. The Air Marshal has a close association with the RAF having undertaken BFT at No 1 FTS (74-75), followed a few years later by the CFS Bulldog course | |
Trenchard Memorial Trophy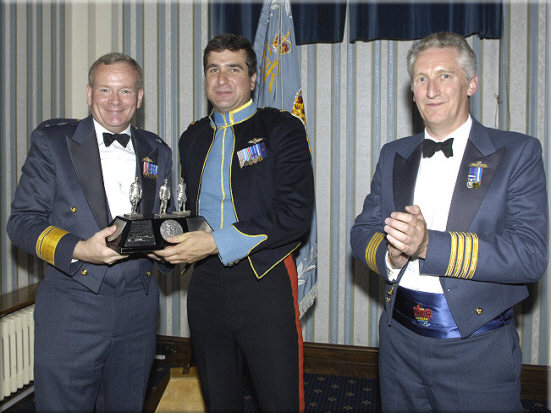 The Commandant was pleased to invite the AOC to present the Trenchard Memorial Trophy which is enscribed, "Entrusted in 1959 by CFS Association to the CFS in memory of the Viscount Hugh Montague Trenchard, Marshal of the Royal Air Force, for periodic award for outstanding contribution to the art of flying instruction". This year's winner was the Joint Helicopter Command Air Manouevre Training Advisory Team, or Apache (Attack Helicopter) Aircrew Training Team.